Swords

Here are some of the items im selling on Ebay....
My swords and my Sony Psx2...
For more information on the auction, please
These are the swords Im selling on ebay....
Some major bills came up and I need to sell some things....
Firstly is my sword, a Wakazashi (one handed katana) from Japan. My neighbor brought it back from a trip he took over there in the years after the war. I personally owned it for 20 years, but I couldn't tell you of who owned it before I did. I don't know any of the family history of the sword before hand. But the handle does tell its own story the way it was made... I do apologise for the poor picture quality tho.. cheap digital camera.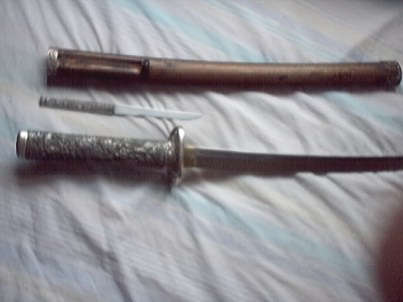 The sword comes in three portions, the sword itself, the scabbard, and the dagger. The scabbard itself is woodstained but has a number of scratches from age. There are sterling silver on band of hilt and at base, to prevent splitting, deailed in silver, engraved with Koi fish, crabs, manta-ray, and water waves.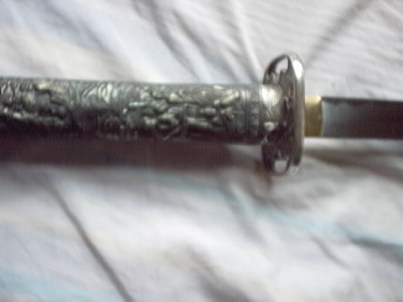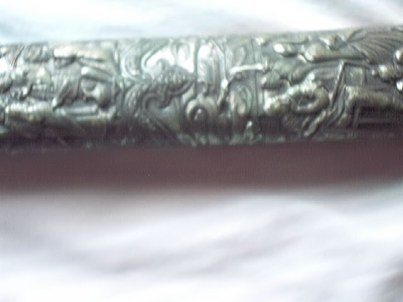 This is a closeup of the sword handle. Like I said, poor picture quality. It is fully engraved in silver, on both sides. It shows a fisherman's warf and other villagers gathered for fish and such. One person was unlucky, as one has a dismembered head in their hands.
There are two areas on the handle showing two groups of persons on them. and adorned all on handle are various shells and waterfowl along it.
Another set of pictures of handle...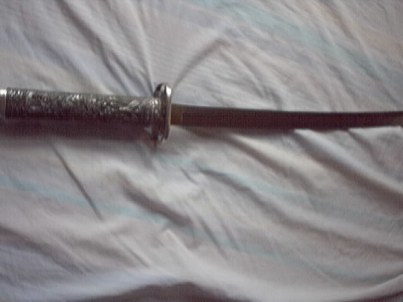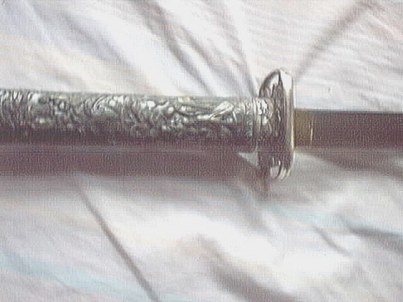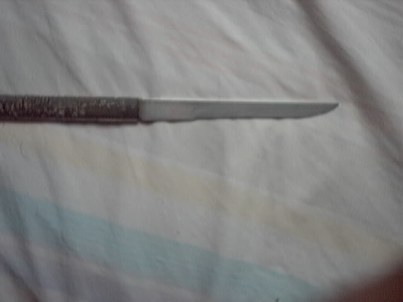 Here is a closeup of the dagger, tho its a bad pic. One side of handle is adorned with watergrass and small flowers, while reversed is lightly smoothed, but not polished. the tip is sharp tho. It is located in the main scabbard, just behind the tong to sword.