Anna Bunny's Biography


(Home)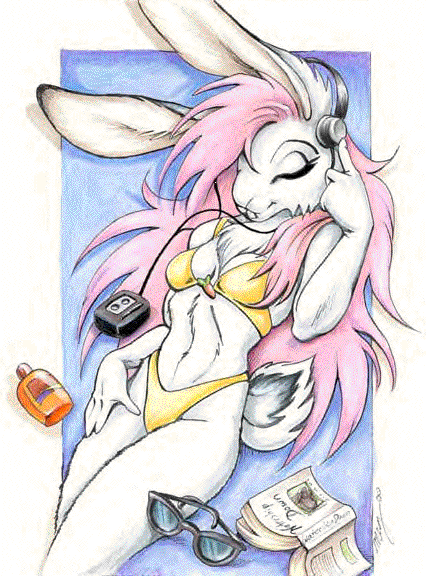 The first fur to join us since we moved, let me introduce Miss Anna Bunny.
(Applauds lightly)
Before you ask guys.... she's taken. :p
From North Carolina, her and Kimono-skunk met on Udate (a dating site ) last November 2000, and has fallen in love with him completely.
Anna is a true Southern Belle bunny. Standing at 5'4 tall, (not including her 14 inch long ears) she is white furred with long pink anime styled hair, big blue eyes, two tone colored tail, and a smile that can knock knees at a hundred yards.
When she says "H'llo Yasha hun, is mah Sweet Pea busy?" in that classic soft as silk southern drawl, you can just picture sitting on the porch, sipping mint julips with her on the porch during a warm spring evening. She can read the phone book to you, and you'll be entranced.
Anna is always smiling, and is usually laughing from a joke Kimono had told her. She is a very good cook, sometimes whipping up cakes or pies on a whim.
And she enjoys running or working out at the local gym. Others have asked Anna for the chance to have her companionshp, but she always declines politely, often not needing to say a word at all, when she shows the diamond engagement ring Kimono had given her on Christmas.